FASHION
What To Know About TikTok's Rising Blokette Fashion Trend
Alani VargasJan. 10, 2023 8:56 pm EST1,376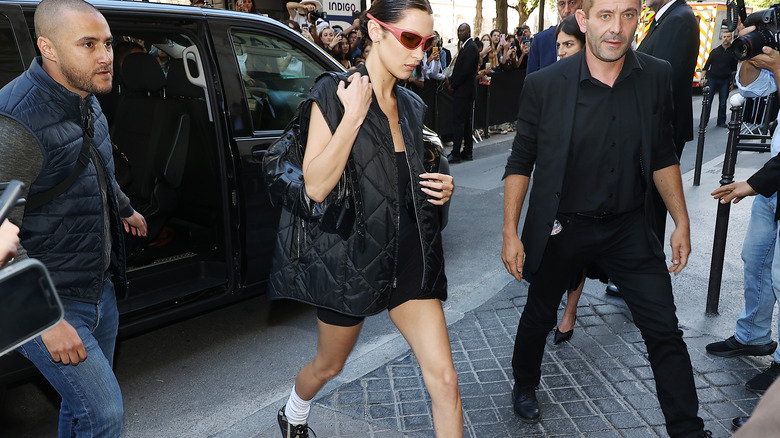 The world of fashion trends and microtrends is incredibly vast nowadays. Anyone can find a style they love or that fits their vibe just by searching on Pinterest or TikTok, and thanks to the latter's algorithm, which knows you better than you know yourself sometimes, you might find a trend or aesthetic without even trying. Plus, there is an aesthetic for everyone, with just one of the newest trends combining sports and fashion. Naturally, the blokette trend is this new aesthetic, and it's very sporty chic.
While the trend is a bit different from athleisure or girly sports looks, it borrows from both of these aesthetics, and it's a look that's very easy to accomplish. Moreover, as content creator Clara Perlmutter told The Zoe Report, the streetwear of fashion girls like Bella Hadid already resembles the blokette aesthetic to a T. Hadid is known for walking down the street in jeans and a cropped athletic top or mixing leisure bottoms with a girly top. She also loves to accessorize with sunglasses and leg warmers, for instance, making the outfits more of her own style while adding feminine flare to them and fitting right in with the blokette aesthetic. Now, let's break this aesthetic down and learn how you, too, can achieve it.
What is the blokette fashion trend?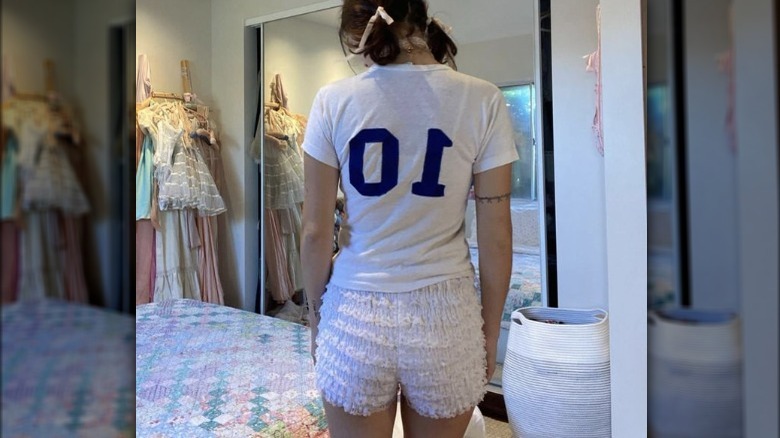 According to Urban Dictionary, the word "blokette" has existed for over a decade online, and it means the "female version of 'bloke'." That makes sense; it's sort of like "dude" and "dudette" but in a particularly lovely British dialect. As Wonderland Magazine reported, the fashion podcast Nymphet Alumni used the term first and didn't actually mean it as "the girl version of blokecore," although it kind of is.
Instead, the outlet mixed the words "coquette" and "bloke" to form "blokette." The coquette fashion trend consists of girly, Little Bo Peep-type clothing. Think white stockings, long ribbons, frilly dresses, or undergarments visible from underneath. And, of course, with the blokecore trend, you have the sporty attire that includes a football — er, soccer — jersey and jeans. As the Sexy Cool Influencer Podcast said in a TikTok defining "blokette," the sporty nature of "blokecore" gets elevated with feminine aspects like stockings, bows, or leg warmers.
Styling the blokette trend is easier than expected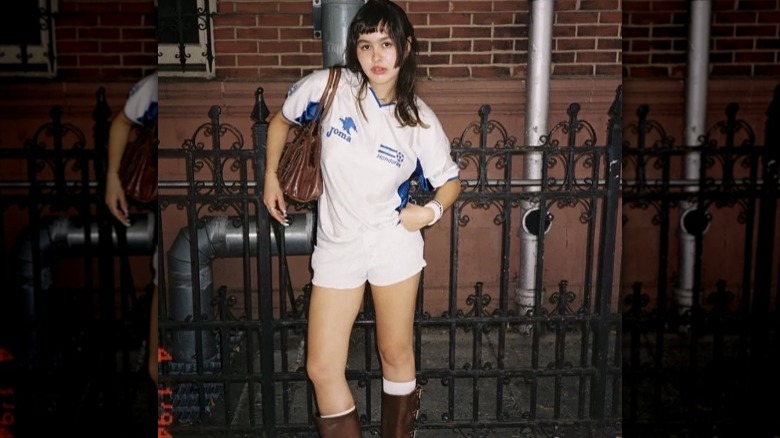 Any way you can girlify the soccer jersey trend of blokecore officially makes your style fit into the blokette trend, but don't overthink it. You can crop jerseys, go for fashionable and feminine track pants, or feminize any sportswear you can find. Matching shorts with a rugby top and mary janes is a bold blokette look. Or, adding thigh-high stockings to street sneakers, a miniskirt, and a soccer jersey will do the trick as well. TikTok user @gr4cie_3lla chose a small skirt and big jersey vibe to rock the blokette aesthetic perfectly.
Ribbons tie the look together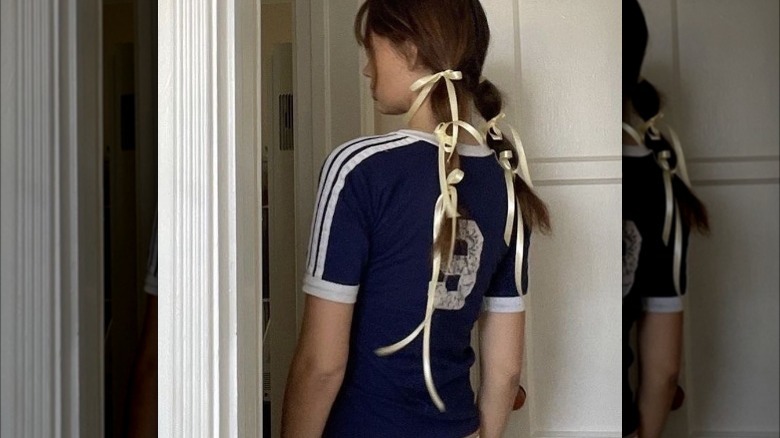 Ribbons tie many looks together; it's what they're good for. And with the blokette, what better way is there to make something more feminine than by adding some frills? Choosing a soccer jersey and putting some blush and mascara on while doing intricate pigtails with ribbons all the way through is a great way to make a sporty look a bit more feminine. You can even do the opposite and have baggy tracksuit pants with a tighter top or a tank top with ribbons in your hair. Whichever way you choose, you're going to look very sporty with a very sweet, feminine twist.
Add leg warmers for a pop of fun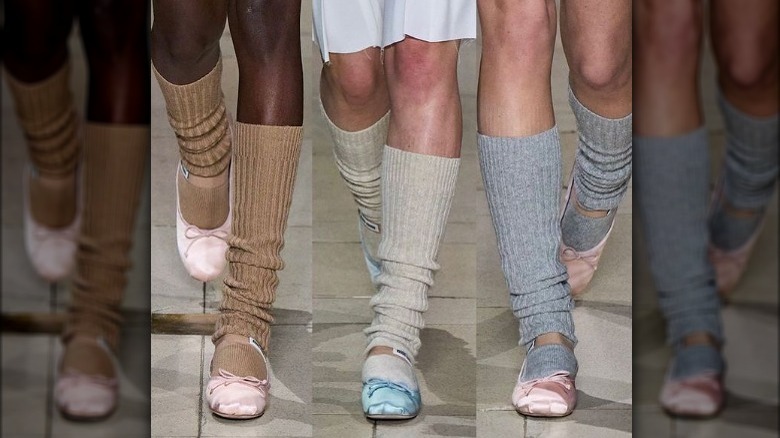 The biggest theme with the blokette trend is adding that pop of femininity to an otherwise very "bloke-ish" look. Interestingly enough, leg warmers and other fun stockings are a big part of this aesthetic. So, you can sort of mix the dainty and dancer vibes of balletcore fashion aesthetic with the slouchy or more relaxed feel of a rugby shirt. Obviously, you're going to want to wear either a skirt or shorts to show off your fun leg accessories. Frilly shorts or a sweet skirt really pull off the feminine angle to this look.
Adidas and skirts go together for blokette core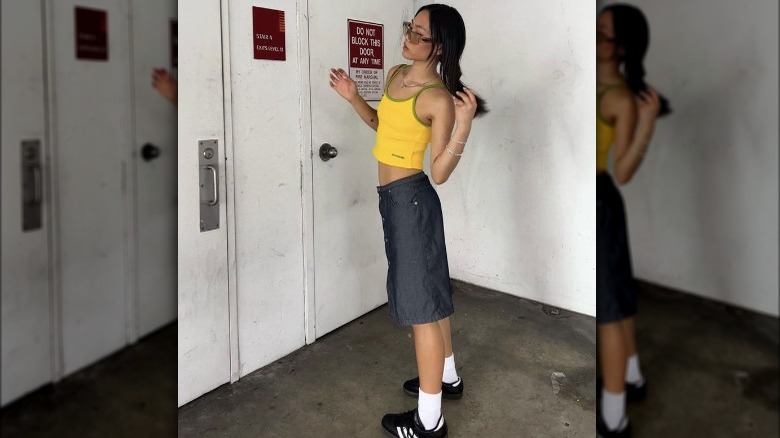 Speaking of skirts, pairing skirts with athletic shoes for the blokecore aspect of this aesthetic works beautifully. Again, you really want to be girly and fun while sticking to the sporty aspect of soccer jerseys and jeans. Of course, you don't need to wear jeans to pull this off, but the vibe of the blokecore aesthetic involves Adidas and jeans. So, taking a jean skirt, even a long one, and pairing them with Adidas or other sneakers is a great way to achieve this look.
Take the monochrome velour tracksuit to new heights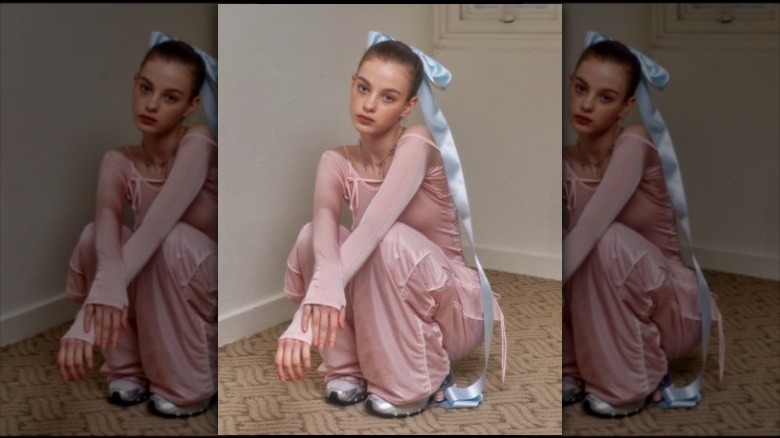 Lastly, what screams "feminine athleisure" like a velour tracksuit? Styling the blokette aesthetic in this way is breaking the boundaries a little since it's very much veering into straight-up athleisure and not blokette, but adding in the "coquette" part of this trend is where you can take the lead and swerve this back into the blokette lane. Obviously, a light pink velour tracksuit already hits on the feminine angle of the trend while also being sporty to a degree, but adding ribbons and dolling it up a bit takes it home. Keep your shoes simple with sneakers to touch on the "bloke" aspect one more time, and boom! The blokette aesthetic is all yours.