LIFESTYLE
The Top Purple Nail Polishes For Every Situation
Rhiannon IrelandDec. 28, 2022 11:48 am EST746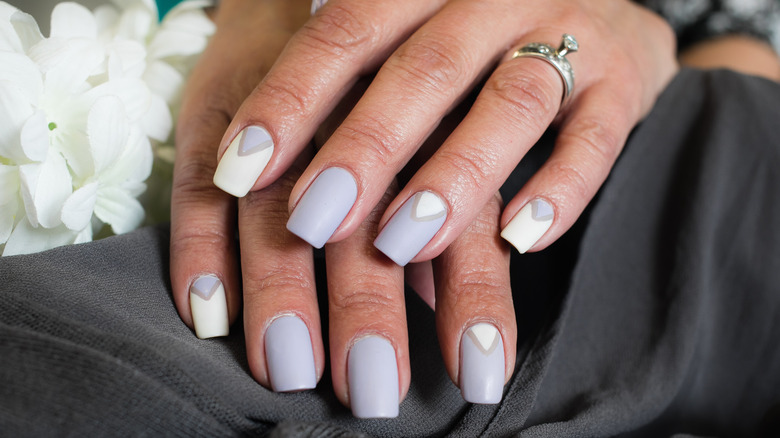 We may receive a commission on purchases made from links.
Whether you're a fan of trendy nude nails or prefer a bold pop of color to brighten up your day, there's a nail polish to suit everybody out there. However, a color that is often not talked about as much in comparison to pink and red is purple.
Your nail polish color can reveal a lot about you, and the color purple represents luxury, creativity, and magic amongst other things (via Very Well Mind). Its mystical connotations will lend a spark to any occasion or look, and it's also a good color to add gems and other details.
Much like how the popular glowing aura nail trend focuses on embracing your aura and expressing who you are, purple nails will represent the above and more depending on the shade you pick. The wide range of purple polishes available allows you to switch up your look from cute and summery to mysterious and alluring in just a matter of minutes. Whether you're looking for purple nail polish for a holiday party or a laidback summer BBQ, you're sure to find a new favorite pick.
Embrace a mysterious vibe with this unusual shade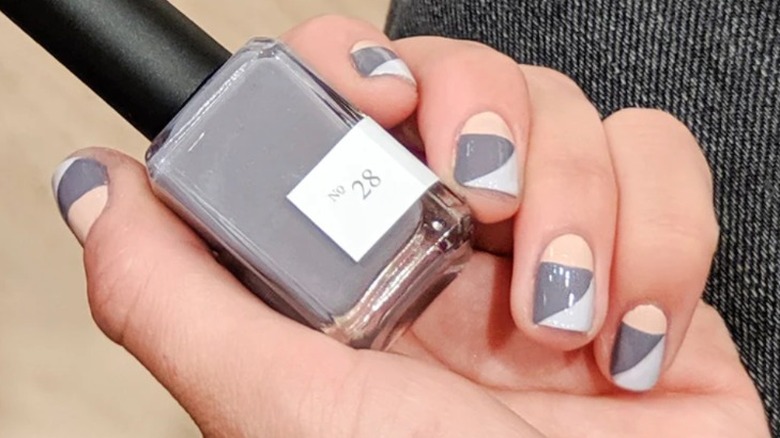 If you're a fan of dreamy pastel purple nails, this lavender gray nail polish from Dear Sundays in shade No.28 is the ideal shade for you. Featuring a smoky gray undertone that prevents it from looking too sickly and also makes it suitable for all months, not just during spring and summer, this polish is described as "captivating and romantic," and we're inclined to agree. Plus, it is free of the main 10 allergens, cruelty-free, and made with a non-toxic vegan formula.
Feel sexy and chic all night long with dark violet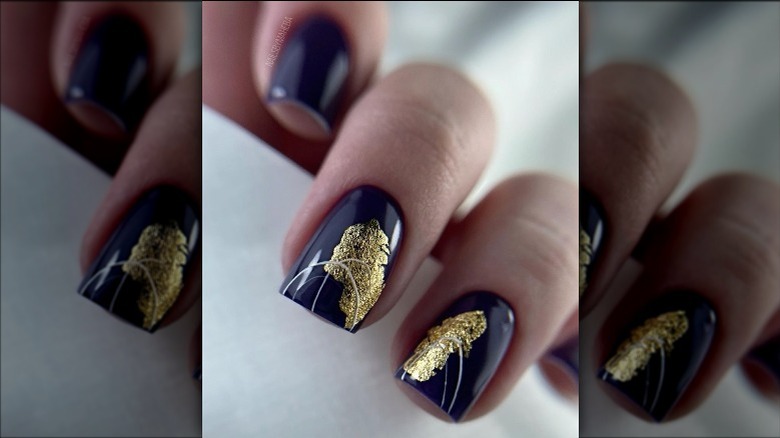 Prefer something darker? A dark purple like this beautiful deep violet nail polish from LeChat is sexy and sleek, and will add an air of elegance to any look. Aptly titled "Violet Fizz," this polish is apparently a favorite of actress Emilia Clarke (via Allure), so it must be good. Moreover, if you want to dip your toe(nail) into the 2023 goth nail trend, dark purple polish is a great place to start if you don't want to go full black just yet.
Bring some festive shimmer into your life with this polish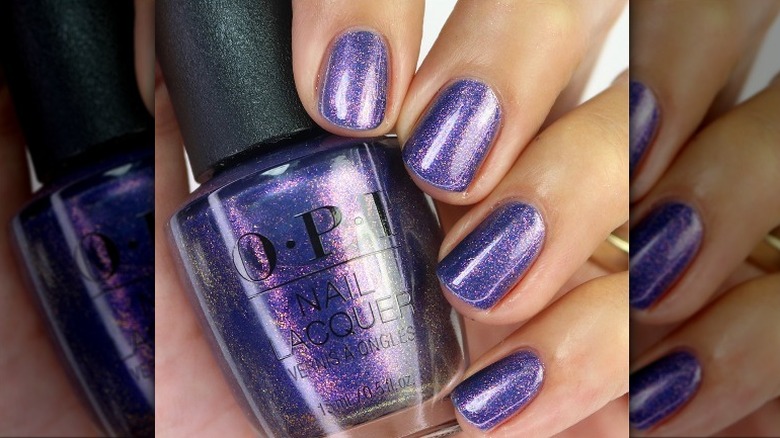 Purple nails don't just have to be matte. In fact, opting for sparkly purple nails can instantly make you feel more festive. A polish like this stunning shimmery purple polish from OPI will catch the light so you'll sparkle all night long. Named "Leonardo's Model Color," this polish is described as "an inspiration for any master artist." It has a fast-drying formula, too, meaning it's a good choice for those last-minute manicures on the way to the event.
This pretty in-between color is ideal if you're indecisive
Purple nail polishes don't just have to be dark or light. There are so many shades that fall in between, and this opaque dusty lavender nail polish from Jinsoon in the shade "Lavanda" is one of the best. Per Marie Claire, this polish is a collaboration with designer Suzie Kondi. The color itself stems from the Jacaranda tree and its "magnificent blossoms." If ever there was a nail polish that will make you feel like a flower, it's this one.
Pastel purples don't have to be one dimensional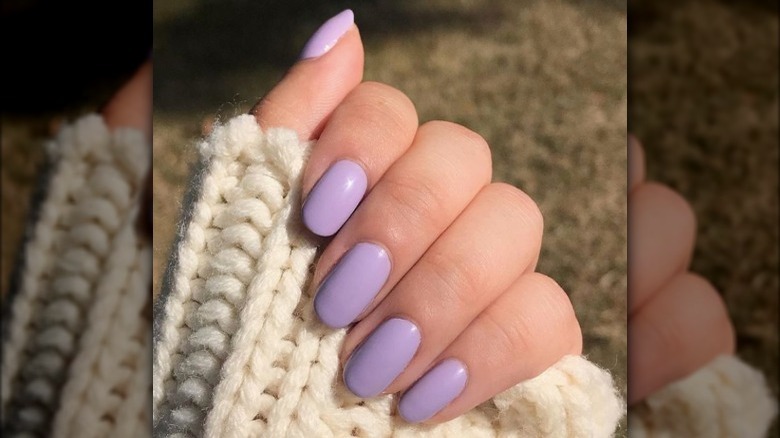 If you're a lilac person through and through, you can't go wrong with this dreamy pastel lilac polish from Essie. Priced at $10, it has a high-shine look due to its glossy finish. As this is a pastel shade, it has pink undertones that lend it a little more of a mauve-ish look than a straightforward pastel lavender. These pink undertones also make it a solid option if you have cool undertones, as the light pink undertones will complement your skin instead of washing you out like some pastel shades.
Feel rich as plum syrup with this metallic nail polish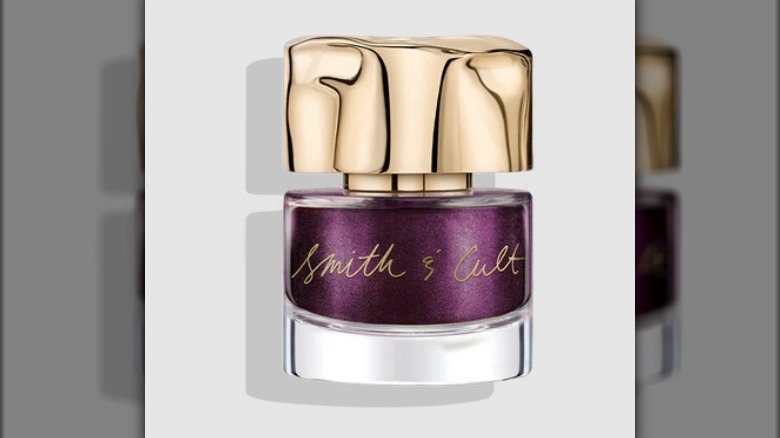 Another metallic shade, the deep and alluring tone of this plum nail polish from Smith & Cult will put you in the mood for partying all night long whenever you wear it. Subtly shimmery and featuring tiny glitter components for extra sparkle, the metallic shade also comes in a luxe bottle, complete with a gold lid and lettering on the front. As this polish is jewel-toned, it would look stunning paired with amethyst earrings or a choker for a rich and regal look that will make you the belle of any ball.
Go matte with this silky smooth nail polish designed to look and feel like velvet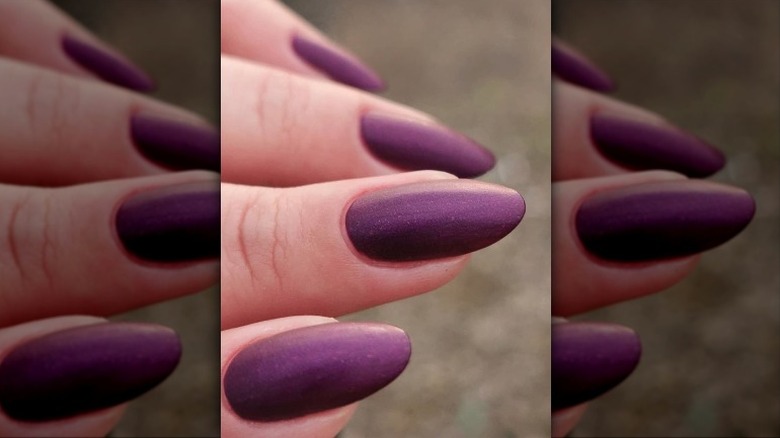 More of a matte than a gloss person? No worries — Zoya has your back. Its matte velvet polish in the shade "Iris" will add elegance to any nail look, and the matte finish makes it suitable for any event. In terms of seasons, this polish screams fall due to its warm, rich finish. Described as a "deep amethyst with a fuchsia pearl fleck," its unique appearance is daring, captivating, and yes, a little bit gothic.
This purple nail polish is ideal if you have warm undertones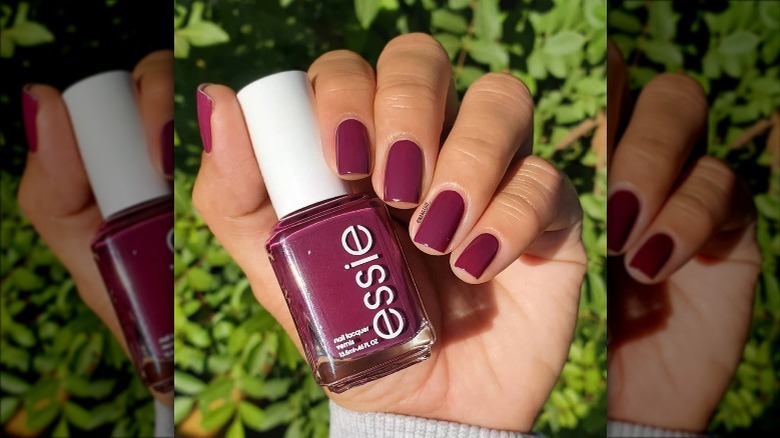 If you have a warm undertone, think about looking for polishes with a magenta finish rather than a purple that's more on the violet end of the spectrum. Whilst the former will illuminate your skin, the latter will make your skin look paler instead of complementing your natural skin tone due to the coolness of blue-purple mixes like violet. This magenta purple nail polish from Essie, titled "Swing of Things" is a cream polish and has just the right amount of shimmer.
This nail polish will help you feel ready for springtime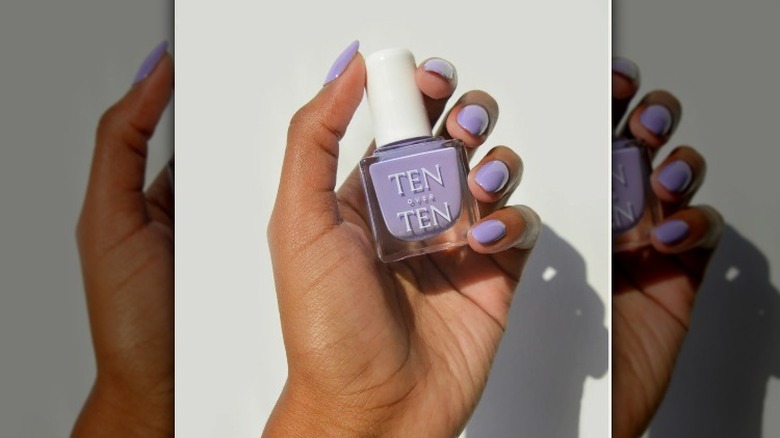 Pink may hold the spot as the trending summer color, but purple is quickly catching up. The Prince nail polish from Ten Over Ten is the perfect pick for a spring/summer color. Per Ten Over Ten's co-founder Nadine Abramcyk, the shade was partially "inspired by Pantone's color of the year veri peri" (per InStyle). Pantone's 2022 Color of the Year is fresh, sweet, and bright, so it makes sense the above shade will fill you with spring and summer vibes.
Try a lavender polish with a bit of edge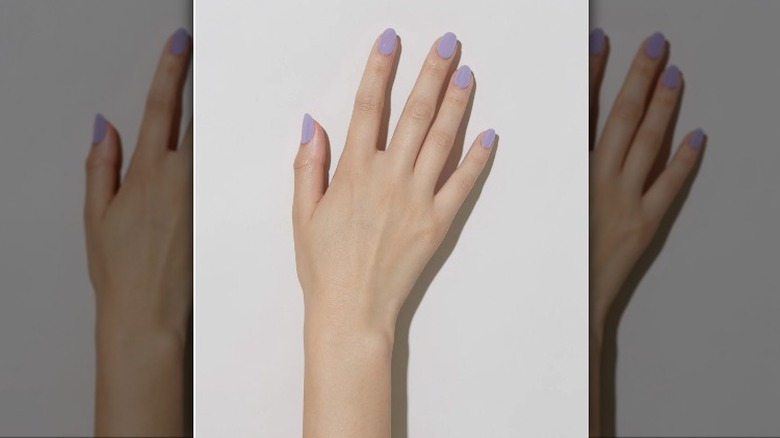 Another gorgeous light purple polish, Jinsoon's nail polish in the shade "Birdie" will instantly refresh any outfit — even the name sounds refreshing. As Refinery29 noted, Jinsoon's take on lavender has blue undertones, and is therefore more suited to those with cool undertones. Don't be fooled by its sweet name, though. This polish may be pastel, but it's part of the Jinsoon Neo Pop collection, meaning it's designed to stand out despite its delicate color.
This nail polish is a good choice if you're always on the move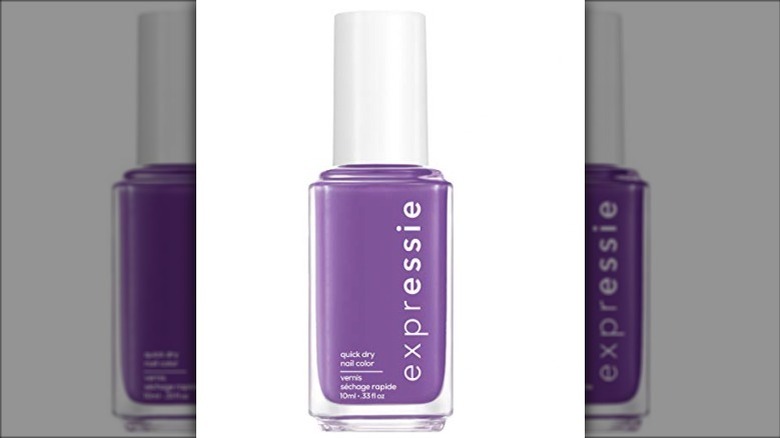 Always in a hurry? Essie quick dry polish in "Grape" will help you slay the nail game and be on time. Featuring a vibrant grape purple color — as expected with the name — this polish will be dry to the touch in just a minute (via Stylecraze). This means there's no excuse not to flex your newly painted nails even if you're constantly rushing about.
Dip your toe (or fingernail) into luxury with this suave nail polish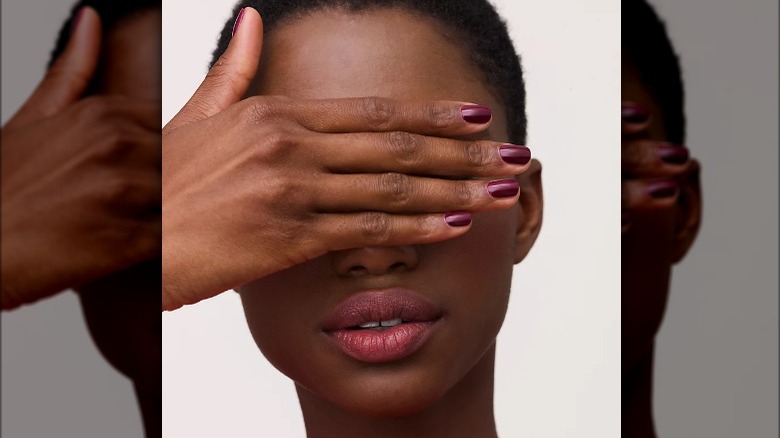 For a luxurious option that would also make a nice gift, this deep plum nail polish from Hermes will make a striking statement. Described as a "dark plum with a dreamlike amethyst sheen," it is made in France and comes encased in an aesthetically pleasing white and gold bottle. Priced at $45, this certainly isn't your average nail polish, but it will make you or someone else feel very special.
The bottle of this nail polish is as bold as the color inside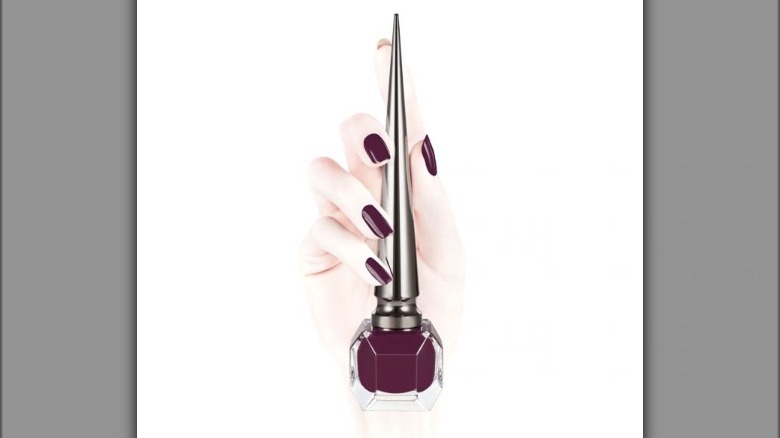 If you're the sort of person who likes to keep the bottle even after the nail polish has run out, you'll love the decadent packaging of this rich magenta plum polish from Christian Louboutin. Named "Lady Page," this polish will make you feel powerful and in control. Plus, the tall gunmetal lid and the geometric bottle will look gorgeous on your shelf even when you have used all of its contents.
Tone things down a little for an every day purple polish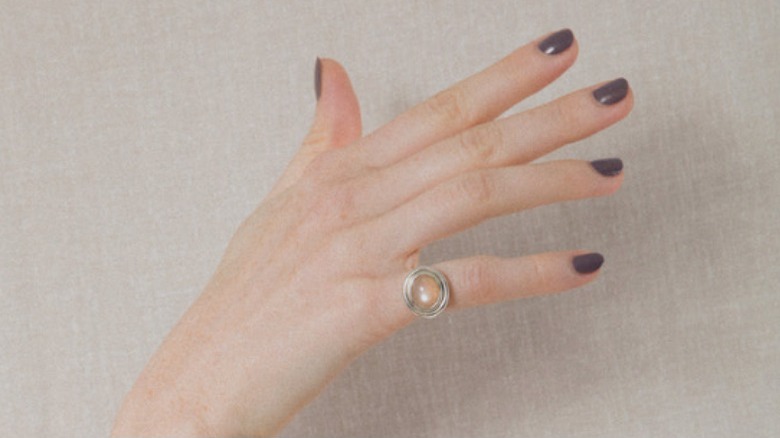 For a shade you can wear every day, try J. Hannah's luscious grayish-purple polish in the shade "Ikebana." Described as "striking and sophisticated" by Who What Wear, this polish may be on the darker side, but its gray undertones save it from looking too dark and instead place it firmly on the wavelength of a neutral purple polish. This polish is best suited to those with cooler undertones due to the gray-lavender mix.
This sparkly purple polish will transport you to outer space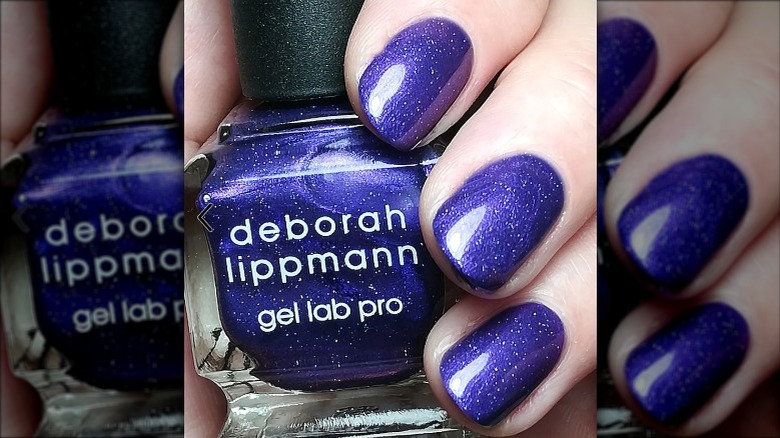 Last but definitely not least, this metallic purple polish from Deborah Lippmann will be your new best friend for every party. Guaranteed to draw all eyes to you — or at least your nails — its swirling shimmery finish will remind you of the night sky, even in broad daylight. The Gel Lab Pro polishes also won an Allure "Best of Beauty" award in 2018, so you know you won't be let down by the finish, either. Make sure to be quick if you like the look of this polish, as it's a limited edition and only available online at Sephora.
Purple polish can suit light and dark looks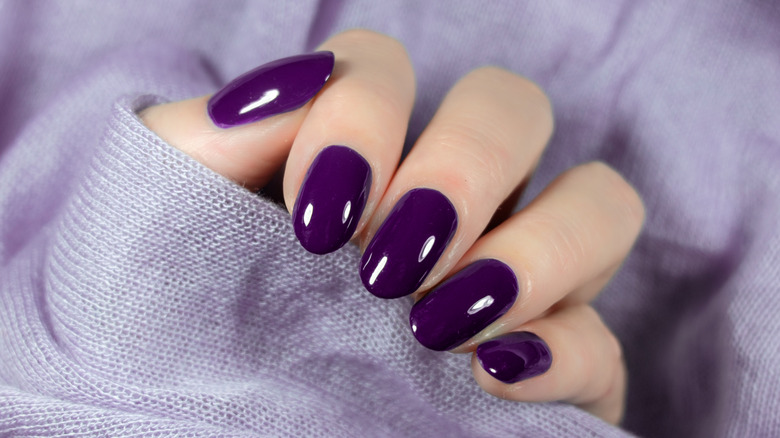 Judging by all of the shades above, you can see the versatility of purple nail polish and how it truly can be used for every occasion. For any upcoming events or simply because you want to, purple polishes have got you covered. Light purple can provide a chic accent to a sundress, whereas dark purple can give off a powerful vibe. Just remember to use a base coat and top coat, otherwise, all the hard work you put in to find the perfect purple polish will have gone to waste.