WELLNESS
Yes, You Can Last-Minute Holiday Shop With Absolutely No Stress
Josee NgDec. 1, 2022 9:43 am EST369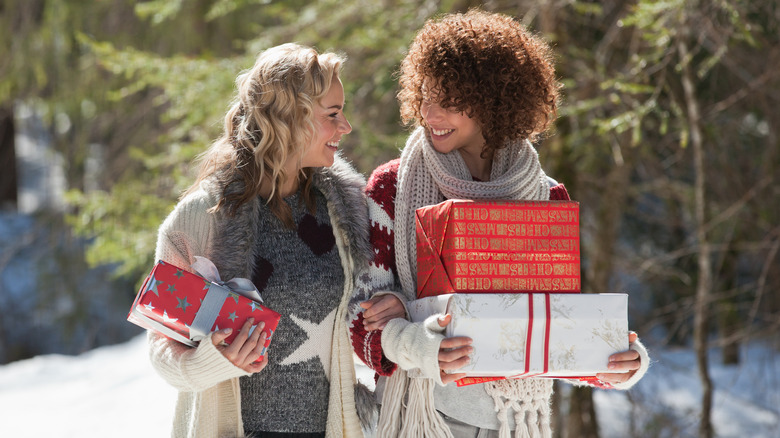 We may receive a commission on purchases made from links.
Nothing says holidays like holiday shopping. From household items to gifts for our loved ones, every item bought around the holiday month sparks joy and makes us feel like we're spending for a good cause. While holiday shopping is something that we all look forward t,o and many of us start researching and making a list a month earlier, plans seem to always fall through the cracks. Instead of Netflixing over roast potatoes in slouchy onesies, we find ourselves waiting in long lines from the parking lots to the checkout counters with "Silent Night" blasting in our ears and shoppers squabbling over goods. There's no window for return, and by the time we arrive home out of breath from carrying bags of everything but what we'd planned for, we just want to get the holiday over with.
Whether it's due to procrastination or shipping delays, last-minute shopping is a signature holiday activity. A 2020 survey by Klarna of more than 40,000 American shoppers found that 44% of them left their Christmas shopping until the very last week. Unsurprisingly, one out of 10 U.S consumers told Pew Research Center in a survey that congested malls and stores were what they detested most about holiday shopping. Even if last-minute buying has the potential to be so hectic that it destroys the spirit of the season, it doesn't always have to be a menace. Below, check out tips for meeting last-minute holiday shopping deadlines without sacrificing on gift quality and overstressing yourself.
Have a list handy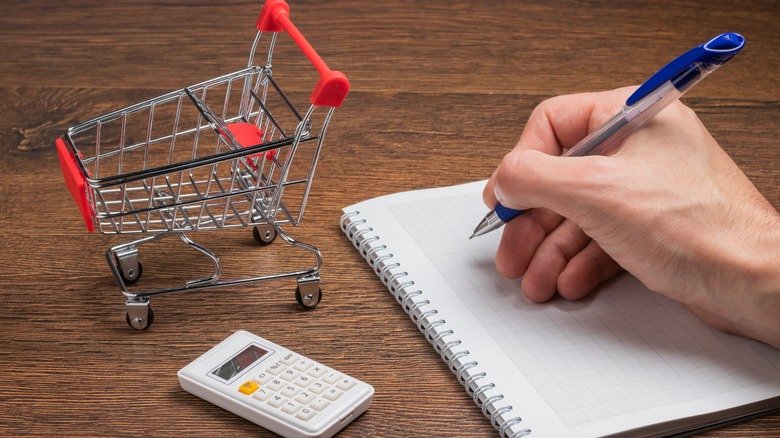 Shopping at the last minute doesn't mean you no longer need forward planning. Whether you're shopping in-store or online, keep your shopping checklist handy because you'll need it to keep your shopping spree under control and prevent unnecessary anxieties. If you don't have a list of to-buys ready, start making one before you start shopping. Pointing out that lack of control in the initial stage is what drives last-minute holiday shoppers to the edge, hypnotherapist and psychotherapist Jacqueline Carson tells Stylist: "Make a checklist of things to do and put a date of when this needs to be completed, then tick them off as you go. This is important and will help you to feel in control by visually seeing the completed tasks."
In addition to saving you time and energy, having a list helps you to prioritize your spending on what you really need at the moment and keep your shopping impulses in check, Positive Lending Solutions points out. Holiday shopping bristles with temptation, and you'll always be on the verge of overspending when "limited-time offers" keep staring at you. Once you have placed an order for a to-buy item, get off the site immediately and move on to the next item. The goal for holiday shopping is not only to spend money with joy but also to stay within budget and avoid depleting your savings account.
Use shopping websites and apps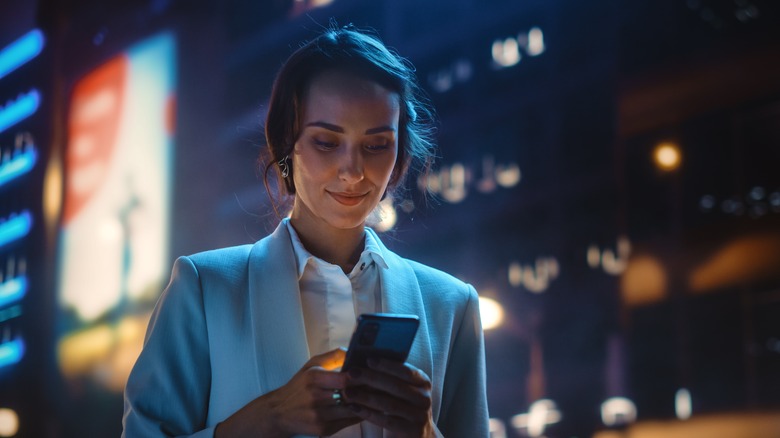 If you don't want to drive through heaps of snow and fight over festive goods in congested malls, switch from in-store shopping to online shopping. While nothing jazzes up your holiday shopping experience like browsing through goods in gaudy brick-and-mortar stores, do not discount the perks of scouring the web and ordering stuff from the comfort of your sofa — especially in the last days prior to the holiday. Not only does online shopping save you the pre-holiday stress, but it also gives you a holistic view of festive goods on sale and holiday promotions that you might overlook while snatching items willy-nilly in a bulging crowd.
There's a host of online sites and mobile apps you can check out for goods that cater to your specific preferences by category and price and stock up on chic and discounted items. For instance, Anthropologie is a great place for unique gift sets and cozy home decor, like bedding and candles. For holiday beauty blitzes featuring skincare and makeup deals from well-known brands, Sephora and Ulta have you covered with standard one to five-day shipping on U.S. merchandise orders. Themed collections and rare finds? Check out Uncommon Goods and Etsy before someone else does. If you're concerned about shipping delays and would rather play it safe with same-day delivery options, Amazon and Target — treasure troves of every retail item that you can possibly think of — are your best bet.
Skip gift wrapping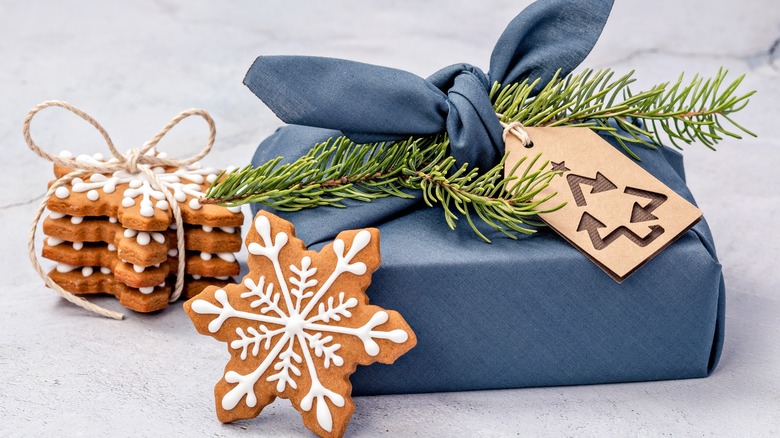 If you're shopping in-store, skip the gift-wrapping part. Not only is standing in line waiting to have your gifts wrapped in glossy papers a lengthy process, but it's also bad for the environment. Several thousand tons of waste are generated worldwide annually, and a vast number of them come from Christmas-package items. According to GWP Group, an area larger than central London could be covered by the total number of cardboards used to package Playstation, Nintendo, and Xbox consoles given as Christmas gifts. To make matters worse, wrapping papers or card materials made from metallic or that have glittery details on them are not recyclable and end up in landfills. The Environment Agency estimates that each year, about 50,000 trees are chopped in order to produce enough paper for gift wrapping.
Therefore, skip the wrap if possible. Gifts don't need wrapping to look presentable. To put a bow on your gifts, you can give them away in eco-friendly, ready-made items that can be repurposed, such as bamboo baskets, plant pots, glass jars, or makeshift shopping totes. If you have time to DIY your gift wrap, consider wrapping your items in colorful magazine sheets or good ol' newspapers and securing the parcel with twine instead of a ribbon. Alternatively, you can try the traditional Japanese gift-wrapping technique of furoshiki, which involves wrapping gifts and carrying them in sturdy, square-shaped decorative fabrics.
Send out gift cards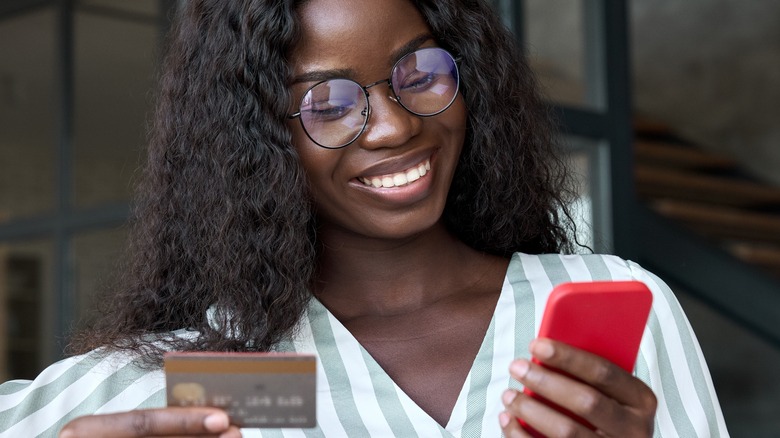 Sending out gift cards is a fuss-free way to bless your loved ones with quality gifts that you know they will like without all the hassles of guesswork and in-store shopping. Fundamentally, a gift card is a card that may be addressed directly to the recipient and redeemed for a specific cash value of products or services from the business it's bought from. From Levi's to Barnes & Noble, many retailers offer customized gift cards, so you can take your picks from a variety of options. Depending on the recipient's preferences, you can pick a gift card from a retailer that sells what they like: books, clothing, or cosmetics. For instance, if your friend drinks Starbucks every morning, gift the person with a Starbucks eGift card of any amount so the person can treat themselves to their favorite drinks at any Starbucks store.
If you have already ordered or sent out a present, but it might not reach the recipient on time due to shipping delay, you can take a photo of the present and send out an IOU note as a placeholder. Another last-minute gifting approach that will move the recipient to the core is gifting them with experience. You can gift a person with a ticket to Disneyland, an upcoming theater performance, or their favorite vacation destination. Gifting experiences make you come across as a thoughtful, emotionally-invested person, and no recipient will care if it's bought at the last minute or not.
Organize a holiday gift exchange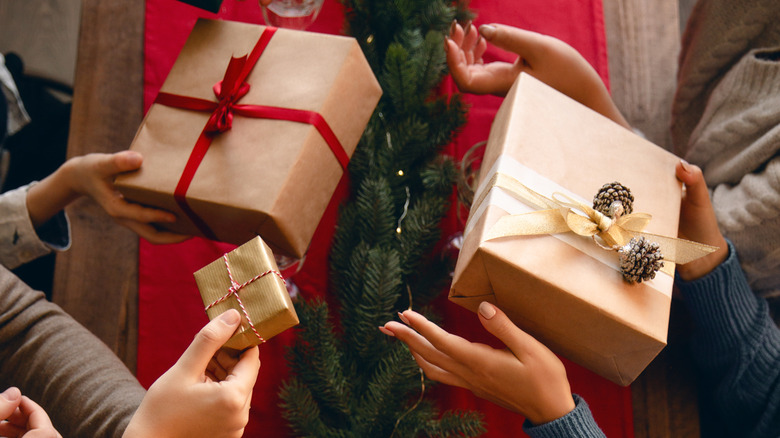 A holiday gift exchange spares you the pressure of buying gifts for everyone in your inner circle and is a great way to reduce the time and energy spent on holiday shopping. By organizing or participating in a holiday gift exchange, you can save money while still having a fun time giving gifts because everyone in the group only receives one gift for one person, Select's personal finance reporter Elizabeth Gravier tells CNBC. To make it a fair exchange, those who host a gift exchange should set a spending cap, perhaps in the $20 or $50 range, Jodi RR Smith from Mannersmith Etiquette Consulting tells Los Angeles Times. When there's a spending limit in place, people won't go overboard with gift-giving to make others feel lousy, and you — as a gift-giver on a budget — won't feel the pressure of buying something that's too expensive.
There are various arrangements for a group gift exchange, such as the Secret Santa, the White Elephant, or the Yankee Swap. Depending on the requirements of the arrangement, you can bring a homemade gift or buy a neutral-gender gag gift. Think bathtub trays, cozy socks, cheese knives, or face masks. Usually, those who participate in group gift exchanges don't put a premium on receiving exactly what they want or need, so there's no pressure in this type of gift-giving activity at all. It's all about surprising one another and having fun during the gift-opening process.